Testimonials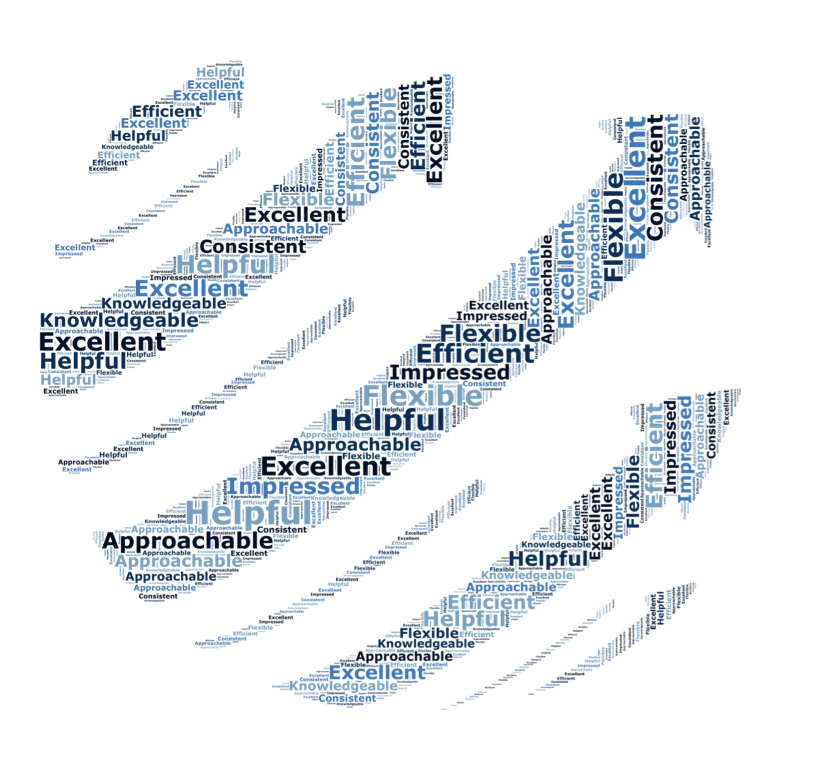 Our aim is to provide a professional and high level of service. Client care is at the core of our practise. Below you will find testimonials from some of our many satisfied clients.
Property Related Matters
"Thank you so much for your hard work and sleepless night, we will forever be grateful for the amazing work you did on our behalf"
"You really are a great team. I was kept informed throughout and felt a valued client"
"Well done, tenacity always pays off! What with this exchange and the completion both happening today, I'd better find some more properties for you to deal with! Many thanks and well done!"
Family Law
"I would like to say a thank you to you, and also your team, for guiding me through this process and alleviating me of the stress of the situation. It has been greatly appreciated and I will recommend you to any one in need of similar services"
Wills, Trusts & Probate
"Simply superb, professionally treated by Meg Wilton and at a reasonable cost"
"Extremely helpful, pleasant Solicitor and staff and office smart and clean"
"Solicitor Meg Wilton has been dealing with my late father's estate and probate. I recommend her services whole heartedly. She has been sensitive, efficient and impossible to fault. Highly recommended."
Legal Costs
"My experience of using Elite Law Solicitors is extremely positive. I have been impressed with their approach to client care in providing high levels of service in a timely manner in respect of preparing bills of costs and advising on recoverability given the complex and frequently changing rules and case law relating to costs. I operate a paperless caseload and therefore needed costs lawyers prepared to work with PDF files of varying sizes as opposed to paper. Elite Law Solicitors have demonstrated that they embrace the latest digital technology to facilitate a paperless approach which saves time and expense. I have also found their free costs lectures very informative. I would therefore not hesitate to recommend them." Terence Channer – Solicitor – Scott Moncrieff & Associates
"Elite Law have worked with Dutton Gregory for the past 9 years. They always provide exactly what we need, when we need it!" Dutton Gregory LLP
"We use Elite Law for all of our Legal Aid costing which is a significant proportion of our practice.
We have been using Elite Law now for several years and have found them to be very good in terms of acknowledging our files, confirming who will be dealing with the costing and very approachable in terms of additional queries that we have with regard to the ever changing and increasing demands of the Legal Aid Agency during the claims process. They work closely with us during the costing process and assist us to ensure a smooth passage of our claims. Whenever we have raised any issues they have always been dealt with promptly and taken seriously. We consider that we have been provided with excellent client care and service." Kirti Patel – Partner – The Children's Legal Practice Ltd
"We employed Danielle at Elite Law to prepare a complex Form H Budget in a hurry. She travelled down to our Reigate office at short notice and completed the job swiftly and efficiently without fuss asking a few sensible questions about the projections. The draft budget followed shortly after well in time to meet the deadline. Her flexible prompt and efficient approach enabled us to get a strong budget in without missing deadlines and I would not hesitate to use her again or recommend her services to others." Geoffrey Stagg – Partner – McMillan Williams Solicitors
"Outstanding and very friendly service. Very approachable staff whom have time and time again gone over and above to assist and advise despite serious time constraints and last minute instructions. Easy to contact and very helpful." Mohammad Beyki – Solicitor – SSP Law